Make An Appointment
Want to work with an advisor? We're here for you, and the fastest way to go about getting started is to sign up for services to make an appointment. Instructions on how to sign up for services and making an appointment can be found below.
How to Sign Up for a WBC Webinar
Como Registrarse en el Women's Business Center
How it works:
Click here to create an account and become a client.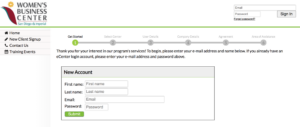 You will know your application was submitted once you arrive at the "Welcome to eCenter Direct" screen. You can immediately start registering for training events.

For an appointment, you will be notified via email. Make sure to keep an eye out for the email, including in your junk folder.

Within the email their will be a link that'll allow you to schedule a free 1-on-1 appointment with one of our advisors. All meetings are currently being held via Zoom.

Once scheduled, you will immediately receive a confirmation email with the Zoom link for your upcoming meeting.
Cómo funciona:
Oprima aquí para crear una cuenta y convertirse en cliente.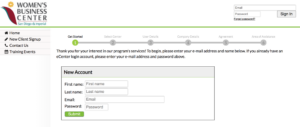 Sabrá que su solicitud fue enviada una vez que llegue a la pantalla "Bienvenido a eCenter Direct". Puede comenzar a registrar inmediatamente para nuestros talleres.

Para una cita, se le notificará por correo electrónico. Asegúrese de estar atento al correo electrónico, incluso en su carpeta de correo no deseado.

Dentro del correo electrónico habrá un enlace que le permitirá programar una cita individual gratuita con uno de nuestros asesores. Todas las citas se llevan a través de Zoom.

Una vez programada, recibirá inmediatamente un correo electrónico de confirmación con el enlace de Zoom para su próxima reunión.